RESERVE A CARRIAGE OR CHARTER A TRAIN
For the ultimate in group travel, luxury train journeys on the Northern Belle are an ideal way to entertain clients, colleagues or friends. Whatever the occasion, we ensure a lasting impression.

With a wide selection of fantastic destinations to choose from, there is a journey to suit every taste. Select from a variety of day, lunch, dinner or weekend itineraries to some of the most beautiful and historic sights in the British Isles.
To add to the excitement and prestige of a special event, charter the Northern Belle train. You can hire the train for one of our regular excursions and choose from fabulous destinations such as Bath or Edinburgh. Or let us arrange an exclusive journey to meet your special requirements.
Dining on board Northern Belle is an experience of true indulgence. All table d'hôte meals are included in the fare, in addition to selected wines and champagne.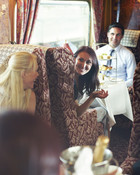 Corporate Events
Impress clients or colleagues with a unique corporate event. We can arrange to have your company's brand displayed aboard the train and at the check in lounge.
Make your journey completely unique with customised menus featuring your company's logo and a special welcome message. Depending on group size, entertainment can be arranged both on the platform and aboard the train.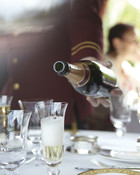 Celebrations
Northern Belle is a spectacular venue for any celebration, from birthdays and anniversaries to special family reunions.
A memorable event is guaranteed with special guest gifts and celebratory cake. Or embrace the golden age of travel and opt for a vintage steam-hauled departure.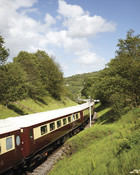 Leisure Groups
Bring a group of friends together for an exceptional day out on the rails. Your event will be totally tailored, with departures themed to your interest and bespoke menus.
Depending on the size of your party, we can also create a custom route with pick-ups from your chosen station.