ROMANTIC WAYS TO PROPOSE
There are few more romantic ways to propose than within the elegant carriages of the Northern Belle.
As you come aboard you'll be transported back in time to a more gracious era. You'll experience an age of breathtaking encounters and unabashed romance. Let the spirit of the journey take hold and make this a day you'll never forget.
Whether you're hoping to surprise your partner with a ring among the petits fours or declare your love on bended knee, we can help you create the proposal of your dreams.
Romantic Days Out
Spoil someone special with a romantic day out on board the Northern Belle.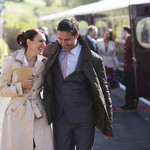 Fine Dining Experiences
Gourmet dining, champagne and wine, sumptuous décor and impeccable service — The Spirit of Travel Lunch will transport you back to a more gracious age of travel.
View Journeys
Wedding Receptions & Engagement Parties

Our luxury train can also serve as a stylish venue for wedding receptions or engagement parties.
Take over a carriage to celebrate with family and friend. Hire the entire train for a glamorous wedding party on wheels. Or host a unique champagne reception as the train carries you in style to one of the many luxury wedding venues in the UK.
The thrill of celebrating in a completely unique setting, the fabulous food, the fine wines and the meticulous service and attention to detail guarantee an unforgettable event.
Contact Us